Changes to the 30% ruling as of 2019
As you may have heard, the duration of the 30% ruling has been reduced as of January 2019. This also counts for those who have already been granted the 30% ruling before 2019. 
Below you can see what has changed and what this means for you.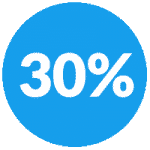 Your 30% ruling was granted before 1 January 2012
The duration of your grant is a maximum of 10 years providing you applied for it within 4 months of starting work in the Netherlands.
Your 30% ruling was granted between 1 January 2012 and 1 January 2019
The duration of your grant is a maximum of 8 years. Due to a transitional arrangement, the end date of the grant may change, below you can see what your new end date will be. You will not be issued with a new grant stating this, so it is up to you and your employer to keep track of the new end date.
| | |
| --- | --- |
| End date year on your grant: | New end date: |
| 2019 or 2020 | Remains the same as stated on your grant |
| 2021, 2022 or 2023 | 31st of December 2020 |
| 2024 or later | The end date on on your grant minus 3 years |
Your 30% ruling is granted after 1 January 2019
Your grant is valid for a maximum of 5 years.
Conditions:
You are eligible for the 30% ruling if you meet the following conditions:
You were recruited from outside of the Netherlands.
You have an employment contract.
Your specific expertise is scarce in the Dutch employment market. This is apparent if one of the following applies to you:

Your salary in 2019 is at least € 37,743 (2018: € 37,296) This excludes the tax free compensation.

You are under 30 years of age and have a Dutch master's degree in scientific education or a foreign degree of the same level and your salary is at least € 28.690 in 2019 (2018: € 28.350).

You are conducting scientific research at a research institution. In that case you are always eligible for the 30% ruling.

In the 2 years prior to your first work day in the Netherlands, you lived outside of the Netherlands for at least 16 months and at least a distance of 150 kilometers from the Dutch border.
If you would like help from Expatax with your 30% ruling application, please click here to read further and start the process. If you would like to check if you qualify, use our handy online tool.